Ah yes, the elusive R Magic Rx7! 
This beast has been around for a long time, but I thought it would be worth doing one of the first in-depth posts on all the details behind this FD3S. Not only does this time attach monster look great, with its unmistakable two-tone color scheme and many carbon bits, but it also performs! She managed to lap Tsukuba in the 55-second range ­many years ago and all this on a mildly tuned engine. Let's take a look at this beauty!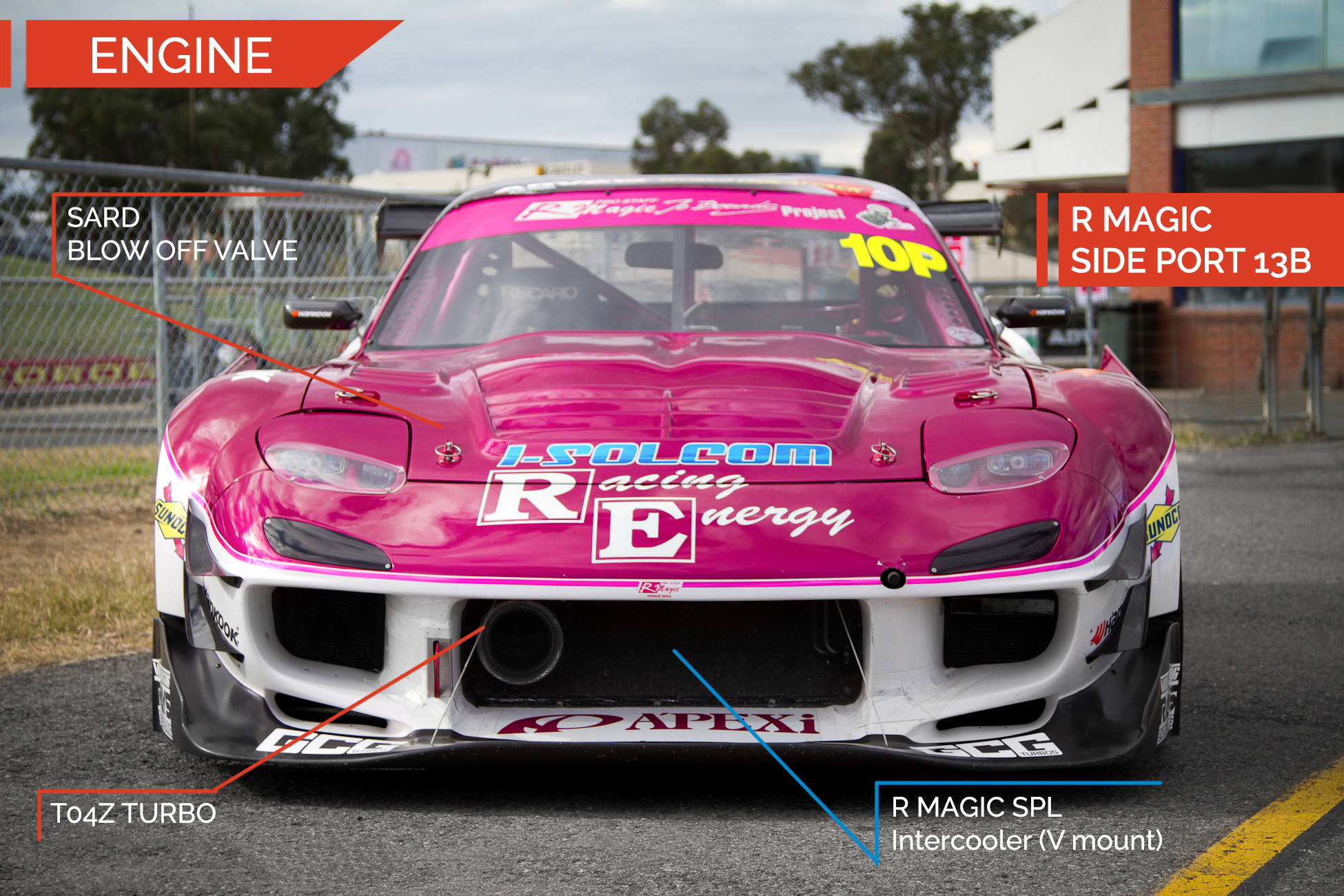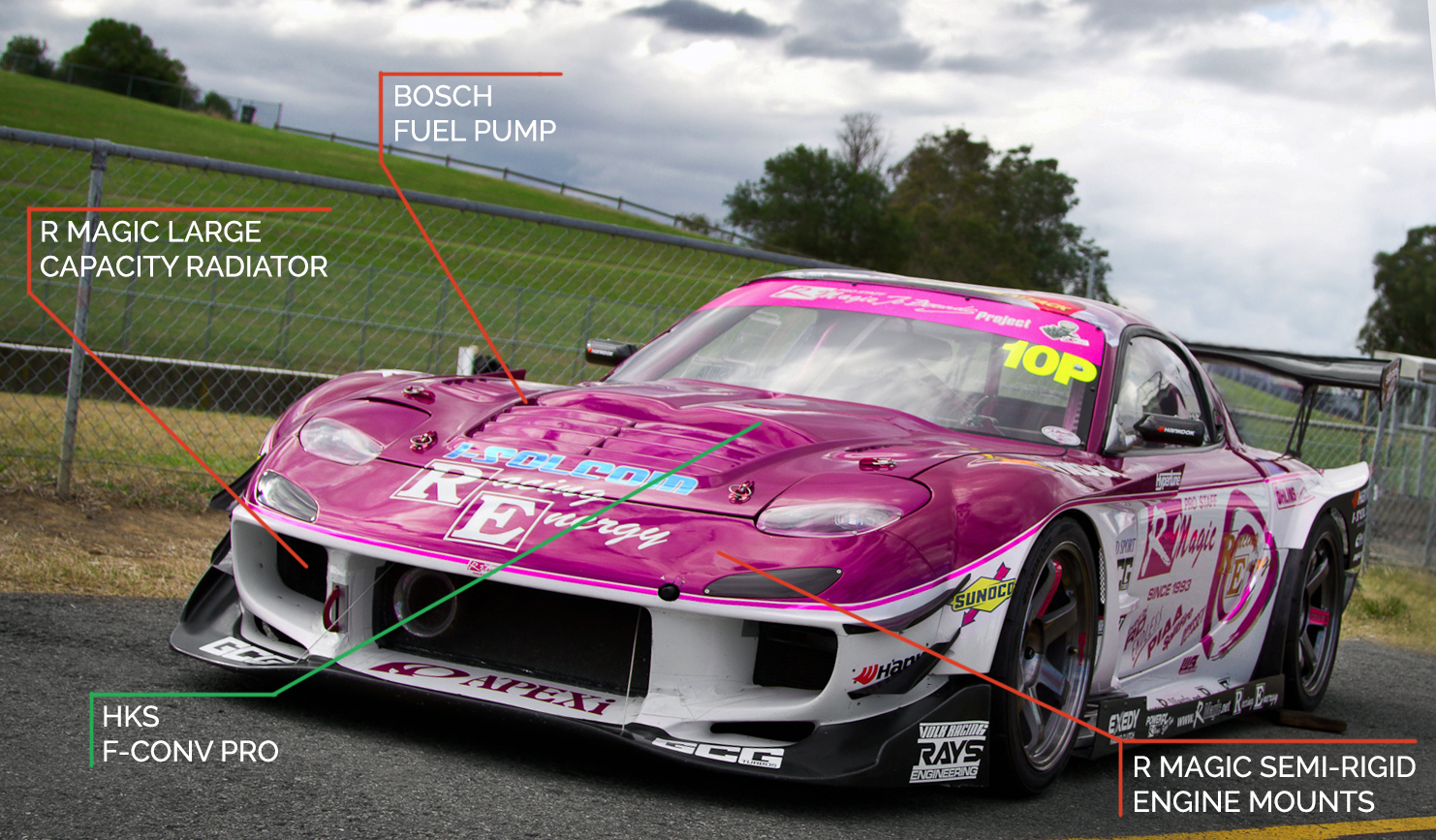 The engine is a side-ported 13b, the stock engine has undergone a rebuild with a GCG turbo which is similar to the HKS T04Z and a SARD blow off valve. R Magic have added a V mount intercooler to deal with the rotary's intense heat. The engine has upgraded 850cc injectors with fuel supplied by a Bosch pump in the passenger's side of the interior. Electronics are handled by a Power FC and an HKS F-CON V Pro. All these upgrades give out a solid 580 hp at 7500 rpm!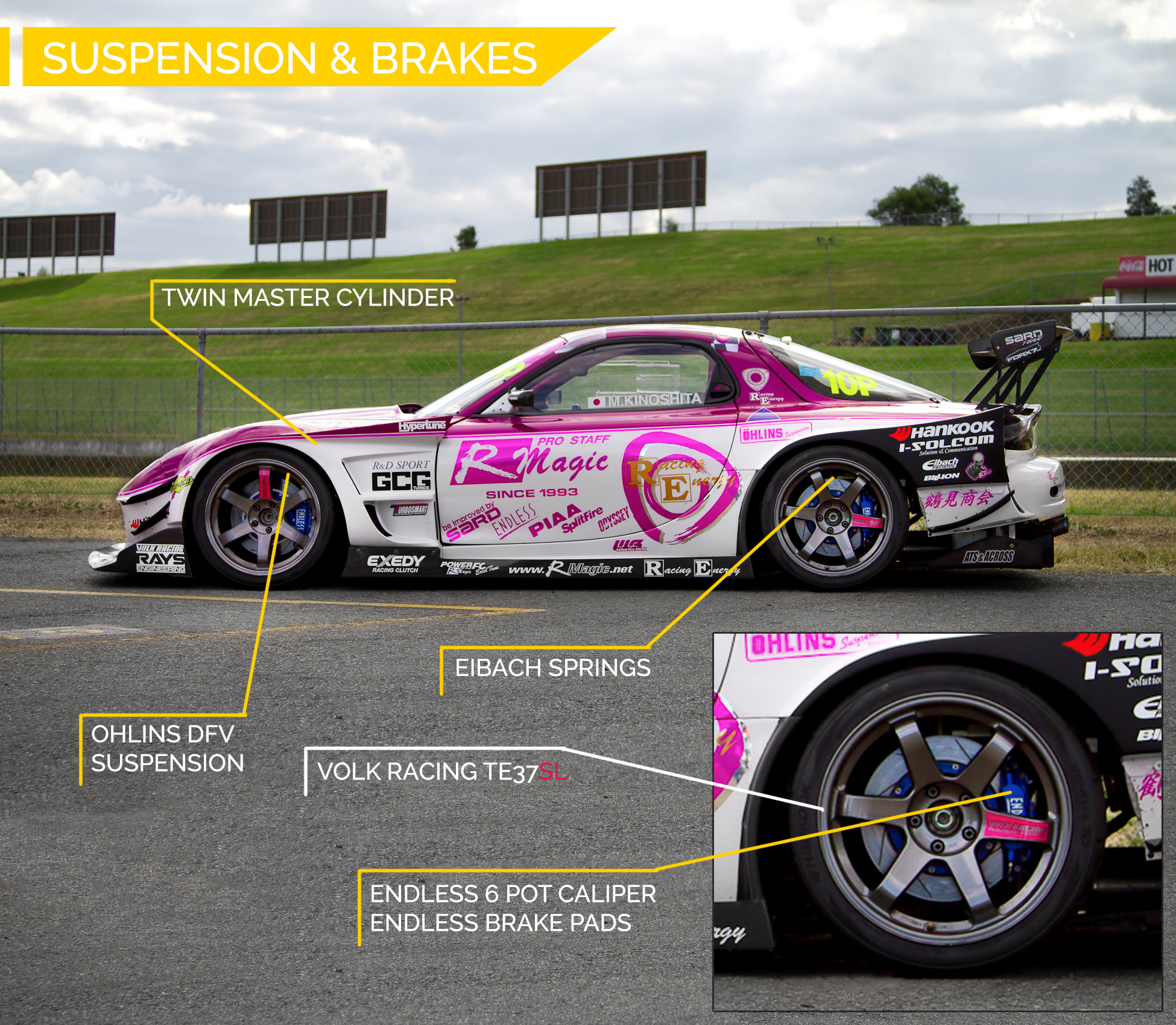 To stop the FD, R Magic installed Endless brakes, 4-pot at the rear and 6-pot in front with a twin master cylinder; this ensures adequate breaking strength on such a light car. The older Rx7 used to run Rays CE28N all around, but once the TE37SuperLaps came out they quickly made the change (the new colors match perfectly). Suspension comes from Ohlins DFV dampers and Eibach stiff racing springs with custom adjustable links provided by R Magic.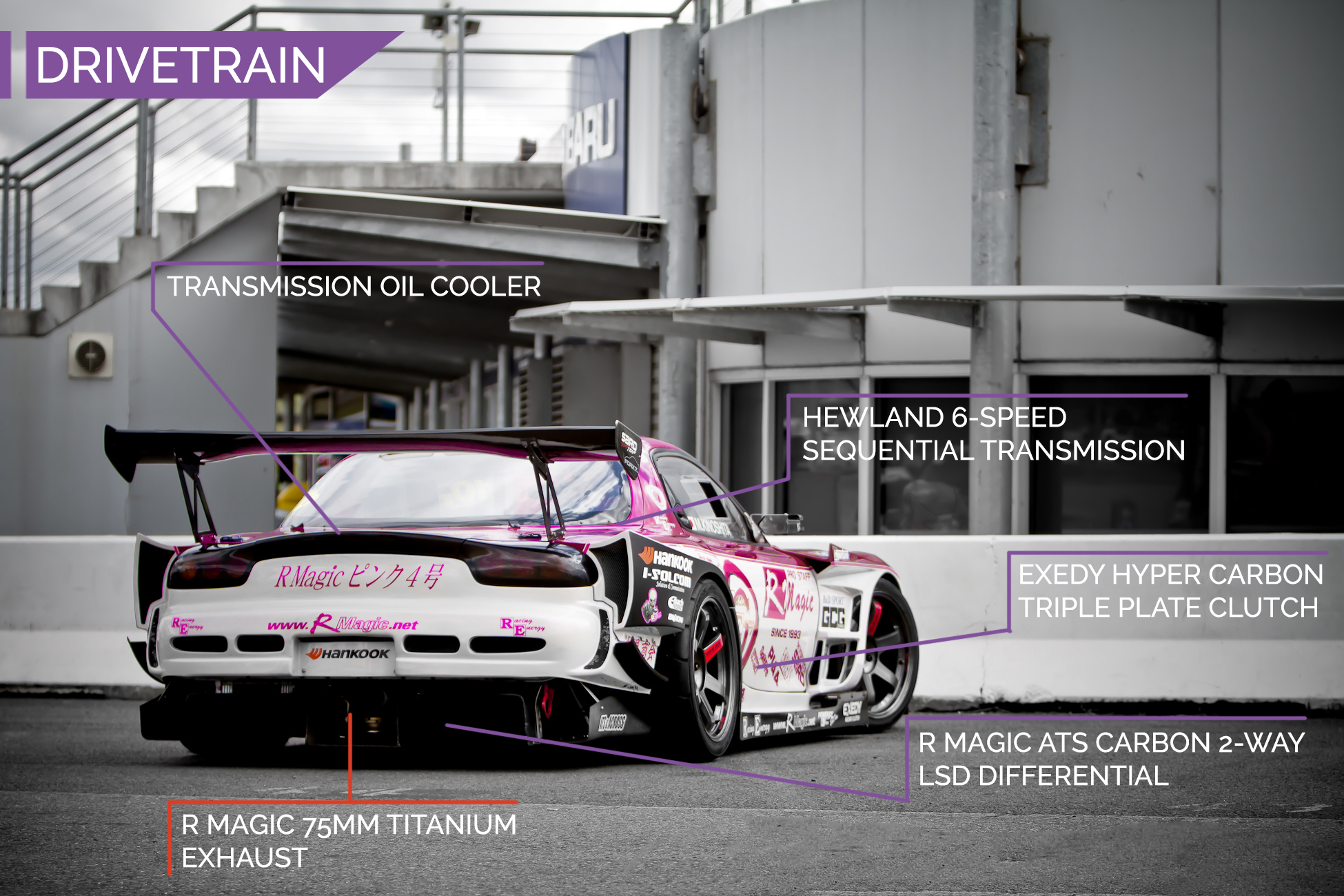 Of course, each and every horsepower is made to good use with a highly upgraded drivetrain. R Magic have a Exedy Hyper Carbon triple plate clutch and a Hewland 6-speed sequential transmission. At the wheels an R Magic LSD directs the power to the ground.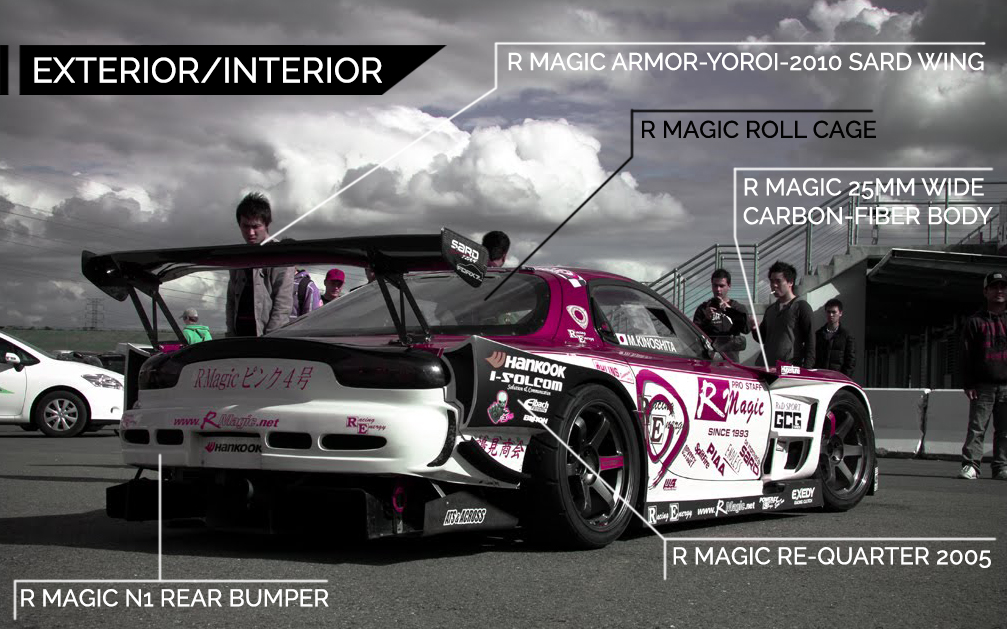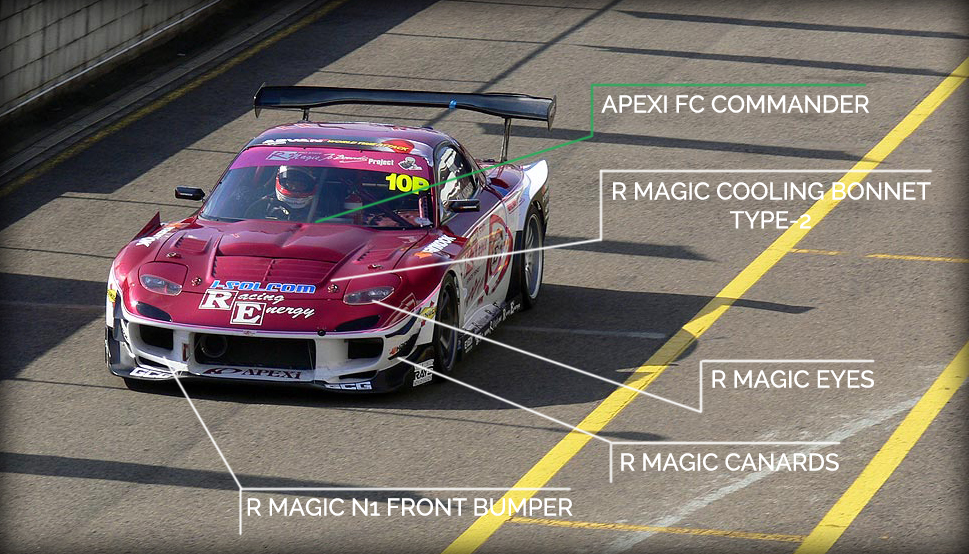 One of the greatest parts of the car is the exterior, which has aerodynamic efficiency as the number one priority. The body is widened 25mm with exotic Super GT-esque front and rear bumpers (you can actually buy similar aero from R Magic!) and there are various canards and cutouts to channel air around the car. With acrylic glass and carbon fiber all around the car only weights 1,040kg.
Overall, this is one of the most recognized Rx7s around. And it's no surprise seeing as how much thought and workmanship has been put into the pink track beast. R Magic has really done a great job, this is one of my favorite Time Attack cars, don't deny it you also love it too!
Pictures modified from www.x-raited.deviantart.com, http://www.the-lowdown.com, http://www.michaelsteven-photography.blogspot.com and http://www.sillbeer.com